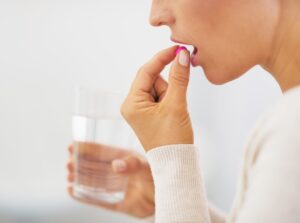 Swallowing capsules is not at the top of anyone's "Love to Do" list – and can be a challenge for some.  But we do it because we know the nutrients in them can help us be healthier!
Fortunately, there are a few easy tips that can make swallowing capsules much easier.
Tip 1 – Tilt Your Head Forward when Swallowing
Leaning the head backwards makes it harder for most people to swallow.
Put the capsules in your mouth and sip enough liquid to swallow them – but tilt your head forward before swallowing them!
Most capsules float so tilting your head forward also helps them float to the back of the throat, making swallowing easier. Then, add a sip or two before taking more capsules.
Tip 2 – Divide the Capsules into Smaller Amounts
If taking several capsules, take them in smaller groups of 1-3 at a time.
With a lot of capsules, this process can take a full glass of liquid – but the capsules won't tend to pile up into a clump in your esophagus (which can be very uncomfortable).
If also taking Monolaurin, customers tell us adding the pellets to the capsules makes it easier to swallow the capsules.
Tip 3 – A Tasty Liquid Helps a Lot
Kefir thinned with milk, or just milk, juice or tea are favorites. Pick your favorite, non-carbonated, non-heated beverage.
(Avoid taking Bio-Fibrin with any protein drink since protein may lessen the efficiency of the Bio-Fibrin enzymes.)

FAQ
Can I empty capsules into a liquid instead of swallowing them whole?
Yes, you can – but pick a drink to help mask the taste since many individual nutrients can be bitter.  You may also need to blend the powder. (Do not empty Bio-Fibrin capsules. The capsule is designed to bypass the stomach acids, protecting the enzymes.)
Can I Use a Lubricant?
Some people use lubricants designed to help swallow pills, such as Pill Glide. Most people find using the previously mentioned tips works great but this offers an option, if preferred. If so, follow the product directions.
Can I Swallow Pills with Food?
This can also be done easily. When you have chewed the food and are ready to swallow, just add a capsule or two to the food and swallow.