---
December 2021
Festive Pomegranate Guacamole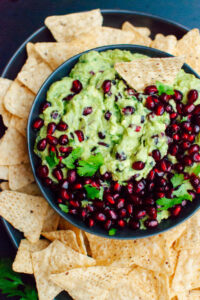 (Recipe courtesy of www.cookieandkate.com)
Ingredients
4

 medium ripe avocados, pitted and diced

2 tablespoons

 fresh lime juice

2

 garlic cloves, pressed or minced

1 teaspoon

 salt

½

 medium red onion, chopped

¼ cup

 fresh cilantro, mostly leaves, chopped

1

 to 

2

 jalapeños (or 

1

 serrano pepper), seeded and chopped

1

 medium pomegranate, deseeded (about 

1 cup

 worth of pomegranate arils)
Entirely optional: ½ cup crumbled feta
Instructions
With a spoon, scoop the avocado flesh into a medium-sized mixing bowl. Add the lime juice, garlic and salt. Mash the ingredients together with a large fork or potato masher until the avocado is nice and creamy.
To ensure that the onion flavor doesn't overpower the guacamole, rinse the chopped onion under running water (I used a fine mesh colander). Pat the onion dry with a paper towel.
Add the onion, chopped cilantro and jalapeño to the bowl and mix well. Gently stir in ½ of the pomegranate arils. For extra presentation points, transfer the guacamole to an appropriately sized serving bowl now. Sprinkle remaining pomegranate arils over guacamole, along with some additional chopped cilantro and totally optional feta, if you'd like. Serve immediately.
_____________________
March 2021
Rainbow Salad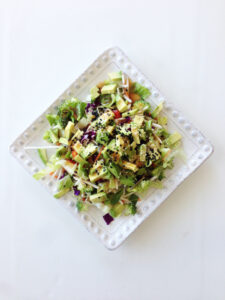 (Recipe courtesy of www.theskinnyfork.com)
Ingredients
2 C. Rainbow Slaw, Dry
2 C. Romaine, Chopped
1/2 Medium Red Bell Pepper, Diced
1 Avocado
2 Tsp. Sesame Seeds
Your Favorite Sesame-Ginger Dressing
Salt & Pepper to Taste
Instructions
Combine the slaw, romain and red bell together in a large bowl. Toss. Sprinkle with sesame seeds and salt & pepper to taste. Add dressing to taste.
____________________
January 2021
Cranberry Orange Chicken
(Recipe courtesy of www.everylastbite.com)
Ingredients
5-6

 

chicken thighs bone in skin on

1

 

tbsp

 

olive oil

1/2

 

tsp

 

salt

1/2

 

tsp

 

pepper

2

 

cloves

 

garlic

 

minced

1

 

large

 

shallot finely diced

 

(1/3 cup diced)

2/3

 

cup

 

orange juice

1

 

cup

 

chicken stock

1

 

tbsp

 

orange zest

1 1/2

 

tbsp

 

honey

 

(or maple syrup)

1

 

tbsp

 

apple cider vinegar

1

 

cup

 

cranberries

 

(+ 2 tbsp for garnish)

1/2

 

orange

 

thinly sliced
Instructions
Preheat the oven to 400 degrees Fahrenheit (200 degrees Celsius)

Season the chicken thighs with salt and pepper on both sides. Heat the oil in a skillet on medium heat and sear the chicken for 4-5 minutes per side until golden. Once the chicken is seared set it aside on a plate (don't worry about whether its cooked through)

Add the diced shallot and minced garlic to the pan and saute for 4-5 minutes until the onion has softened. Use a wooden spoon to scrape any leftover bits of chicken stuck to the bottom of the pan.

Add to the pan chicken stock, orange juice, orange zest, apple cider vinegar and honey and stir. Add in the cranberries and bring to a gentle simmer, leave to cook for 8-10 minutes until the cranberries have begun to soften and the sauce has thickened.

Arrange the seared chicken thighs in the pan. Spoon some of the sauce over the chicken and scatter the remaining 2 tbsp of cranberries and slices of orange around the pan. Transfer the pan to the oven to bake for 15-20 minutes or until a meat thermometer stuck in the thickest part of the thigh reads 165 degrees Fahrenheit.
__________________
December 2020
No Bake Cookies Made Healthier but More Delicious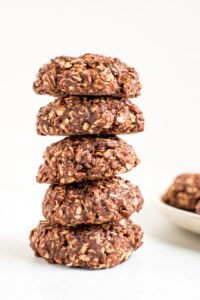 (Recipe courtesy of www.eatingbirdfood.com)
Ingredients
1/2 cup

melted coconut oil

1/2 cup

 natural creamy peanut butter (or almond butter)

1/2 cup

 coconut sugar (or stevia, to taste)

1/4 cup

 cocoa power

1/4 cup

 unsweetened vanilla almond milk
pinch of sea salt

1 teaspoon

 pure vanilla extract

3 cups

 instant oats
Instructions
Add melted coconut oil and peanut butter in a large bowl and stir until combined.
Add coconut sugar, cocoa powder, almond milk, sea salt, vanilla and oats into the bowl and stir until combined.
Drop the dough by the spoonfuls on a baking sheet lined parchment paper.
Place baking sheet in fridge until cookies are set, then serve. Store any leftover cookies in an airtight container in the fridge.
_________________
October 2020
Anti-Inflammatory Turmeric Chicken Zoodle Soup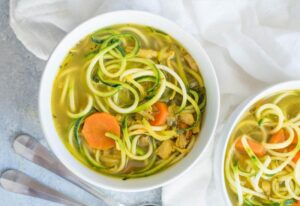 (Recipe courtesy of www.wholefully.com,
Cassie Johnston, Certified Holistic Nutritionist)
Ingredients
2 tablespoons coconut oil or avocado oil
1 tablespoon ground turmeric (I buy in bulk at my local health food store)
2 medium onions, diced (about 3 cups worth)
6 cloves garlic, minced (about 2 tablespoons worth)
3 large carrots, peeled and diced (about 2 cups worth)
3 large celery stalks and leaves, diced (about 2 cups worth)
4 cups cooked, chopped chicken (mix of white and dark meat, quick tip….a rotisserie chicken works great!)
6 cups low sodium chicken broth or chicken bone broth
3 bay leaves
1 teaspoon dried sage
1 teaspoon dried rosemary
1 teaspoon dried thyme
1 teaspoon sea salt, plus more to taste
2 medium zucchini
Instructions
In a large stock pot or Dutch oven, heat the coconut oil or avocado oil over medium-high heat. Add in the turmeric and cook for about 90 seconds, just to let the flavor "bloom."
Add in the onions and garlic, and cook until just translucent and fragrant, about 5 minutes.
Add in the carrots and celery, and cook until the veggies just begin to soften up (no need to cook them all the way through—you're just giving them a head start), about 10 minutes.
Add in the chicken, broth, bay leaves, sage, rosemary, thyme, and sea salt. Bring to a boil, reduce heat, and simmer for 25-30 minutes, or until the chicken pieces are starting to fall apart and all the veggies are very tender. Check for seasoning, adding more salt if desired.
While the soup is simmering, fit your spiralizer with a small noodle attachment, and spiralize the two zucchini. Using a big knife, cut the zucchini noodles into 2-3" pieces. I like to just make a big pile, and then cut through it a few times. No need to be precise about it.
Remove the soup from heat, discard the bay leaves, add in the zucchini noodles, and stir well. The heat from the soup will "cook" the noodles enough to soften them, without them getting too soggy. Serve and enjoy!
Notes
No spiralizer? No problem. You can use a veggie peeler to create zucchini ribbons, or just use a sharp knife and julienne the zucchini into short noodles.
_________________
August 2020
Rainbow Wraps

(Recipe courtesy of www.pcrm.org,
Neal Barnard, MD, and Jennifer Reilly, RD)
Ingredients
Makes 8 Servings
1 cup roasted red pepper hummus
8 whole-wheat tortillas
1 red bell pepper, cut in sticks
1 orange bell pepper, cut in sticks
8 lettuce or spinach leaves, chopped
1 cucumber, cut in sticks
Instructions
Spread hummus or bean spread of your choice thinly on tortillas.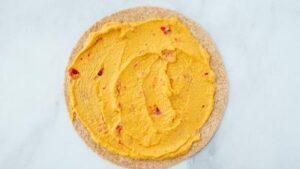 2. Add the vegetables.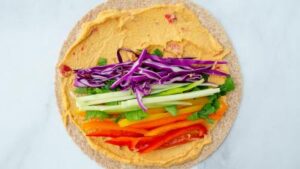 3. Roll up each tortilla.
4. Slice into about 5 individual rolls per tortilla.  Enjoy!
_________________
June 2020
Hemp Hearts, Buckwheat, Chia Seed Porridge/Cereal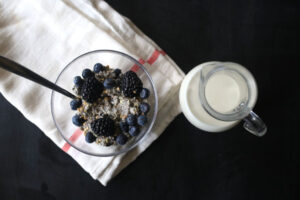 (Recipe courtesy of www.allsortsofpretty.com)
Ingredients
3/4 cup hemp hearts
3/4 cup buckwheat groats
3/4 cup chia seeds
1 tsp. cinnamon
Optional: 1/2 cup raisins, dried apples, walnuts
Instructions
Add everything together, stir, and store in airtight jar.  When ready to serve, add 1/4 cup to bowl and pour about 1/4 to 1/3 cup milk over (enough to just barely cover, but not so the cereal is swimming) and let sit for 3-5 minutes to soften.  Top with fruit if you'd like.
Enjoy!
_________________
May 2020
GF Strawberry Rhubarb Crisp

(Recipe courtesy of www.faithfullyglutenfree.com)
Ingredients
1 cup granulated sugar
3 tablespoons cornstarch
4 cups cut up rhubarb
2 cups cut up strawberries
2 teaspoons vanilla extract
1 cup certified gluten-free oats
1/4 cup brown rice flour
(can be substituted with your favourite gluten free flour, or almond meal)
1/4 cup brown sugar
1/2 teaspoon ground cinnamon
1/4 cup butter, cut into cubes
Instructions
Preheat the oven to 375 degrees F.
In a large bowl, whisk together the granulated sugar and cornstarch. Stir in the rhubarb, strawberries, and vanilla. Pour into an 8 x 8-inch baking pan.
Stir together the oats, brown rice flour, brown sugar, and cinnamon. Using a pastry cutter or two knives, cut the cold butter into the oat/flour mixture, until large crumbs, about the size of a pea, remain.
Sprinkle the crisp topping over the top of the fruit in the baking dish, and spread to create an even layer.
Bake in preheated oven for 30-40 minutes, or until the fruit is hot and bubbly.
Remove from oven and allow to cool for at least 15 minutes before serving, the fruit sauce is very hot straight out of the oven. Delicious served warm with a scoop of vanilla ice cream.
Notes
Place the 8×8-inch baking dish on a larger cookie sheet to bake. That way, if your fruit juice bubbles over while baking, it will not be in the bottom of your oven, and clean up will be made much easier.
_________________
March 2020
Pasta e Fagioli Soup
Pasta e fagioli means "pasta and beans" in Italian—this recipe is much more than that! This hearty vegetarian stew is full of irresistible fresh flavor. It's vegan, too, if you don't top it with cheese. Recipe yields 6 bowls or 8 cups of soup.
(Recipe courtesy of www.cookieandkate.com)
INGREDIENTS
4 tablespoon

s extra-virgin olive oil, divided

1

 medium-to-large yellow onion, finely chopped

2

 carrots, scrubbed clean, finely chopped

2

 ribs celery, finely chopped

¾ teaspoon

 fine sea salt, divided
Freshly ground black pepper, to taste

4

 cloves garlic, pressed or minced

1

 can (15 ounces) crushed tomatoes*

4 cup

s vegetable broth

3 cup

s water

2

 bay leaves

1 teaspoon

 dried oregano

¼ teaspoon

 red pepper flakes, omit if sensitive to spice

2

 cans (15 ounces each) cannellini beans, Great Northern beans, or chickpeas, rinsed and drained (or 

3 cup

s cooked beans)

1 cup

 (about 

4 ounce

s) cavatelli, ditalini, elbow or small shell pasta of choice

2 cup

s chopped Tuscan kale (tough ribs removed first), or chard or collard greens

¼ cup

 finely chopped Italian parsley

1 tablespoon

 fresh lemon juice (about 

½

 medium lemon)
Optional garnishes: Additional chopped parsley, black pepper, grated Parmesan cheese or light drizzle of olive oil
INSTRUCTIONS
In a large Dutch oven or soup pot over medium heat, warm 3 tablespoons of the olive oil until shimmering. Add the chopped onion, carrot, celery, ½ teaspoon of the salt, and about 10 twists of black pepper. Cook, stirring often, until the vegetables have softened and the onions are turning translucent, about 6 to 10 minutes.
Add the garlic and cook, stirring constantly, until fragrant, about 30 seconds. Add the tomatoes, stir, and cook until the tomatoes are bubbling all over. Add the broth, water, bay leaves, oregano, and red pepper flakes.
Raise the heat to medium-high and bring the mixture to a simmer. Cook for 10 minutes, stirring occasionally, and reducing the heat as necessary to maintain a gentle simmer.
Use a heat-safe measuring cup to transfer about 1 ½ cups of the soup (avoiding the bay leaves) to a blender. Add about ¾ cup of the drained beans. Securely fasten the lid and blend until completely smooth, being careful to avoid hot steam escaping from the lid. Pour the blended mixture back into the soup.
Add the remaining beans, pasta, kale and parsley to the simmering soup. Continue cooking, stirring often to prevent the pasta from sticking to the bottom of the pot, for about 20 minutes, or until the pasta and greens are pleasantly tender.
Remove the pot from the heat, then remove and discard the bay leaves. Stir in the lemon juice, the remaining tablespoon of olive oil, and remaining ¼ teaspoon salt. Taste and season with more salt (I usually add another ¼ teaspoon) and pepper until the flavors really sing. Garnish bowls of soup as desired, and serve.
Leftovers taste even better the next day. Allow leftover soup to cool to room temperature, then cover and refrigerate for up to 5 days. Or, freeze leftover soup in individual portions and defrost as necessary.
February 19, 2020
Healthy Oatmeal Cookies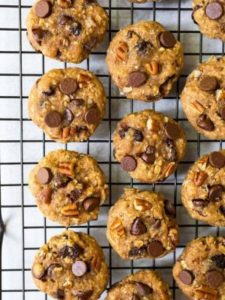 (Recipe by WellPlated.com)
Yield: 24 COOKIES  Prep time:10 MINS  Cook time:10 MINS
Chilling time:30 MINS   Total time:20 MINS
Soft and chewy healthy oatmeal cookies with applesauce, honey, raisins, and chocolate chips. No sugar! The best healthy cookie recipe.
Ingredients:
1 1/4 cups quick oats
1 cup white whole wheat flour
1 1/2 teaspoons baking powder
1 1/2 teaspoons cinnamon
1/2 teaspoon kosher salt
1/4 cup unsweetened applesauce
4 tablespoons unsalted butter — melted and cooled
1 large egg
1 teaspoon pure vanilla extract
1/2 cup honey
1/3 cup dark chocolate chips
1/4 cup raisins
1/4 cup well chopped raw walnuts or pecans — (in this recipe, we usually go for pecans, but both are delicious) or an additional 2 tablespoons chocolate chips and 2 tablespoons raisins
Instructions:
1. In a large bowl, whisk together the oats, flour, baking powder, cinnamon, and salt.
In a medium bowl, combine the applesauce, butter, egg, vanilla, and honey. Whisk until blended. Pour the liquid mixture into the flour mixture and stir just until combined. The dough will be wet and sticky. Fold in the chocolate chips, raisins, and walnuts. Place in the refrigerator and let chill for at least 30 minutes or up to 3 days.
2. When ready to bake, place a rack in the center of your oven and preheat the oven to 350 degrees F. Line a large rimmed baking sheet with parchment paper or a silicone baking sheet. Remove the dough from the refrigerator (if it is very stiff, you may need to let it sit out for 5 to 10 minutes). With a cookie scoop or spoon, drop the dough into 1 1/2-inch balls and arrange on the baking sheet, leaving 1 inch of space around each. With your fingers, gently flatten each cookie to be about 3/4-inch thick.
3. Bake until the cookies are golden and firm around the edges and set on top, about 9 to 10 minutes. Place the baking sheet on a wire rack and let the cookies cool on the baking sheet for 2 minutes, then transfer the cookies to the rack to cool completely.
Recipe Notes:
Leftover cookies will keep in an airtight container at room temperature for up to 3 days, in the refrigerator for up to 5 days, or in the freezer for up to 3 months.
I recommend quick oats for this recipe, as they yield a more tender cookie. You can use regular rolled oats, but they will have a heartier consistency.
To make gluten free: you can experiment with oat flour (I haven't tried this yet, but I would suggest swapping 1 1/4 cups oat flour for the white whole wheat flour) or use a 1:1 GF baking blend instead of the wheat flour.
To make vegan: Use maple syrup instead of honey. For the egg: I haven't tried this with a flax egg instead of the regular egg yet, but I'd love to hear how it goes if sometime does play around!
All text and images © ERIN CLARKE / WELL PLATED.
February 16, 2020
Chicken Pot Pie (Paleo)
(Recipe by My Heart Beets)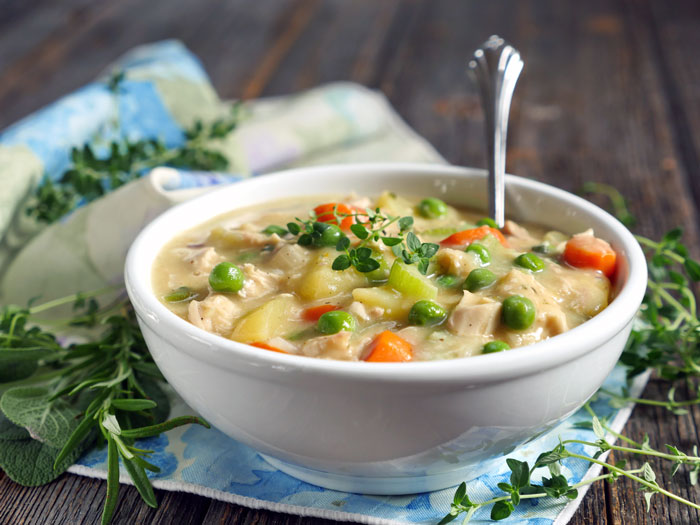 Ingredients:
3 cups cooked chicken, white and dark meat (see directions on how to cook chicken below)
2 tablespoons butter or ghee or fat of choice
1 onion, diced
5 cloves garlic, minced
1 pound peeled potatoes, roughly chopped
1 pound peeled potatoes, diced
2 cups chicken broth
1 cup full-fat canned coconut milk
3 carrots, chopped
2 celery ribs, diced
1 cup frozen peas
1 teaspoon salt
½ teaspoon black pepper
½ teaspoon cayenne, optional
1 tablespoon chopped fresh sage
2 teaspoons chopped fresh thyme
2 teaspoons chopped fresh rosemary
Instructions:
Melt the butter in a dutch oven or heavy-bottomed pot over medium heat.
Add the onions and garlic and saute for 5 minutes, or until soft.
Next, add the 1 pound of roughly chopped potatoes and chicken broth to the pot.
Bring the broth to a boil then cover with a lid and reduce the heat to low. Cook for 10 minutes, or until the potatoes are fork-tender.Turn the heat to low.
Use a slotted spoon to scoop the potatoes into a blender.
Add the coconut milk to the blender and puree. Set aside for now.
Add the pound of diced potatoes and the carrots to the pan (the carrots and potatoes should be about the same size).Bring the broth to a boil, cover with a lid and reduce heat to low. Cook for 9-10 minutes, or until the potatoes and carrots are fork-tender.
Add the celery, peas, spices, cooked chicken and pureed potatoes to the pan and mix well.
Raise the heat to medium-low and cook for 5 minutes.
Serve.
To Make Chicken:
Bring a pot of water to a boil.
Carefully add chicken pieces and any seasonings you'd like to the boiling water.
After about 5 minutes, reduce to a simmer for about 30 minutes or until chicken is cooked.
Remove chicken from pot and set aside. Once cool, remove chicken from bones.
Save the broth – it's liquid gold! (I normally strain before using).
September 2019
Kid-Friendly Wild Blueberry & Kefir
Breakfast Smoothie
Ingredients:
1 cup frozen Wild Blueberries (plus additional for garnish)
1 cup vanilla kefir
1 small ripe banana, peeled
1 long sheet honey-flavored graham crackers, broken up (plus additional for garnish)
1 small handful fresh baby spinach
Instructions:
Place ingredients in a blender and process until smooth.
Divide between two glasses and garnish with graham cracker crumbs and Wild Blueberries if desired.
Serve immediately.
September 2019
LUNCHBOX CHICKPEA SALAD
(Recipe by Food Pleasure and Health)
Serves: 2-3
Ingredients:
1.5 cups cooked chickpeas (1-14 oz canned beans, low-sodium preferably)
10-12 cherry tomatoes, chopped
1 small cucumber, chopped
1/4 cup sliced olives
a handful of parsley, chopped
For the dressing:
2 tablespoon olive oil
3 tablespoon vinegar
2 teaspoon Italian seasoning
salt, pepper to taste
Instructions:
In a large bowl, combine chickpeas, cucumber, tomatoes, olives, and parsley.
Slowly drizzle olive oil, vinegar, Italian seasoning, salt, pepper and combine everything together.
Taste and adjust seasoning as needed.
Store it in the refrigerator in an airtight container for 4-6 days.
Notes:
You can mix the ingredients for the dressing separately and drizzle over it if you don't mind washing an extra bowl!
June 2019
Avocado Smoothie
(Recipe by Chocolate Covered Katie)
1/2 of a large avocado (60g)
1 1/2 cups cold milk of choice (360g)
scant 1 tsp pure vanilla extract
pinch pure stevia, or 2 tbsp pure maple syrup or sugar of choice
1/8 tsp salt
4 ice cubes, optional
Instructions
Combine all ingredients in a blender until completely smooth, then serve. Makes about 2 cups (1-2 servings).
June 2019
Shrimp Cobb Salad with Lemon Garlic Vinaigrette
(Recipe from Paleo Running Momma)
Perfectly seasoned grilled shrimp with crispy bacon, tomatoes, avocado and soft boiled eggs makes the best healthy, BBQ ready Cobb salad for summer!  It's tossed in an easy lemon garlic vinaigrette with your favorite salad greens for a flavor-packed low carb, Paleo, and Whole30 compliant meal.
Ingredients
Dressing:
2

 

tbsp

 

fresh lemon juice

1

 

tsp

 

spicy brown mustard

3

 

cloves

 

garlic

 

minced

1/8

 

tsp

 

sea salt

1/8

 

tsp

 

black pepper

1/4

 

cup

 

olive oil (use one you like the flavor of since it will come through!
Salad:
1

 

lb

 

shrimp

 

peeled and deveined

Primal palate sea food seasoning 

OR salt and pepper to season shrimp

1

 

tbsp

 

organic coconut oil

 

or rendered bacon fat to brush on grill or grill pan

6

–

8

 

slices

 

nitrate free bacon

 

cooked and crumbled (use sugar free for Whole30)

3

 

large eggs

 

soft boiled (see instructions)

3/4

 

cup

 

cherry tomatoes

 

halved

1

 

ripe avocado

5

 

oz

 

container baby spinach or your favorite salad greens

Thinly sliced chives or scallions for garnish
Instructions
Dressing:
Place all ingredients in a tall narrow container and blend with an immersion blender.

Alternatively, you can use a regular blender (or hand whisk) to combine all ingredients EXCEPT the oil, and then slowly stream in the oil while continuing to blend. The consistency should be somewhat thick and the color creamy.

Have all ingredients ready to go (including cooked and crumbled bacon, before beginning)
Soft boil your eggs:
Bring a pot of water to boiling and prepare a bowl of ice water for after eggs cook. Carefully lower each egg into water.

Boil eggs 6 minutes, adjusting heat to keep water at a medium boil.

Remove eggs one at a time with a spoon and place in ice water for 2-3 minutes or until warm.

Carefully peel eggs (I do this in the water, it seems to make it easier!) and set aside until ready to serve.
Grill Shrimp:
Heat your grill or grill pan to high heat and brush with coconut oil. Sprinkle shrimp all over with primal palate seasoning or salt and pepper.

Cook first side 2 minutes flip and continue to cook another 2-3 minutes or until pink and opaque with golden brown.
Assemble Salad:
Place greens on the bottom of a serving bowl or platter, then arrange the tomatoes, bacon, shrimp, and avocado (diced or sliced) over the top. Carefully slice each egg and arrange around salad. Toss with dressing immediately before serving or serve dressing on the side. Enjoy!
May 2019
Paleo Pineapple Fried Rice with Grilled Pineapple Pork
(Recipe by Jean Choi)
Celebrate summer with this Whole30 and Paleo Pineapple Fried Rice, served with perfectly juicy and flavorful grilled pineapple pork tenderloin.
5 mins 27 mins 32 mins
4 servings 458 cal 
Ingredients:
Pineapple Grilled Pork
1 cup chopped pineapple

6 tbsp coconut aminos

5 garlic cloves

1 inch fresh ginger

2 tsp dijon mustard

1 tsp sea salt

1 lb pork tenderloin
Pineapple Fried Rice
1 large cauliflower

4 tsp coconut oil

2 eggs

1/2 medium red onion

1 medium carrot

1 red bell pepper

2 garlic cloves

1 inch fresh ginger

2 tsp sea salt

1 cup diced pineapple

1/4 cup coconut aminos

1 tsp turmeric

3 green onions

Optional: Chopped cilantro
Instructions:
Pineapple Grilled Pork
Combine pineapple, coconut aminos, garlic, ginger, dijon mustard, and sea salt in a food processor, and blend until smooth and creamy.

Add the pork to a large resealable bag, then pour in the marinade.

Marinate in the refrigerator for 4 hours to overnight.

Remove the pork from the refrigerator and let it sit at room temperature while you prepare the grill. Discard the marinade.

Preheat the grill to high.

Place the pork tenderloin over direct heat and close the lid. Grill for one minute.

Repeat for the 3 remaining sides of the pork.

Move the pork to indirect heat and grill for 4 minutes with the lid closed.

Flip and repeat, until the internal temperature of the pork reaches 140 degrees F.

Remove from the grill and let it rest for 10 minutes. Make the Pineapple Fried Rice while the pork rests.
Pineapple Fried Rice
If using a whole cauliflower, remove the leaves off the cauliflower and cut off the florets from the roots.

Use a cheese grater or a food processor with a grater attachment, and grate the cauliflower into the size of rice. Set aside.

Heat 1 tsp of coconut oil in a large skillet over medium high heat.

Add the eggs and cook stirring for 1 minutes, until the eggs are set and scrambled. Transfer to a dish and set aside

Heat 1 tbsp of coconut oil in the same skillet.

Add onion, carrot, red bell pepper, garlic, ginger, and 1 tsp sea salt.

Cook stirring for 4-5 minutes until the onion is softened.

Add cauliflower rice, pineapple, coconut aminos, turmeric, and 1 tsp sea salt.

Stir together to coat, then close the lid. Lower the heat to medium low and let it cook for 5 minutes.

Uncover, add scrambled eggs and green onions, and stir.

Remove from heat and plate. Cut the pork into thin slices and add to the pineapple fried rice.
If using, garnish with cilantro before serving.
April 2019
Easy Paleo Detox Broccoli Salad
Recipe By: Contentedness Cooking
Description:
This Easy Paleo Detox Broccoli Salad is amazing no matter what diet direction you're following. Vegan, vegetarian, paleo, or meat eater, you will get a big soft spot on this salad for sure. Did I mention it's only 5 ingredients? Right, so good to be true.
Ingredients:
1 large head broccoli
1/4 cup almonds, chopped
1 cup grapes, seedless
1 cup carrots, shredded and peeled
Maple mustard sauce
Maple Mustard Sauce Ingredients:
3

 Tbs yellow mustard

4

 Tbs maple syrup
pinch curry (optional)
Instructions:
Prepare the Maple Mustard Sauce.
Break the broccoli into small florets. Shred or chop the carrots, then combine with the broccoli, grapes, and almonds in a big bowl. Mix with the sauce, and you are ready to go.
March 2019
Honey Dijon Salmon with a Hint of Lemon
Yields: 2 servings
Ingredients:
1 (8 ounce) Wild Alaskan Salmon Fillet

1 tablespoon honey

1 tablespoon Dijon mustard

1 tablespoon freshly squeezed lemon juice

Sea salt and pepper to taste
Instructions:
Preheat oven to broil.

Combine honey, mustard, and lemon juice n a small bowl.

Line a rimmed cookie sheet with foil. Spread ¾ honey over salmon, covering both sides. Place salmon skin side down on cookie sheet, drizzle with remaining honey. Place in oven 4-5" from the broiler. Broil 4-5 minutes on each side or until cooked through.

If you're a weight trainer, serve over a bed of quinoa or brown rice for an additional 9 grams of protein; otherwise, a side salad is perfect!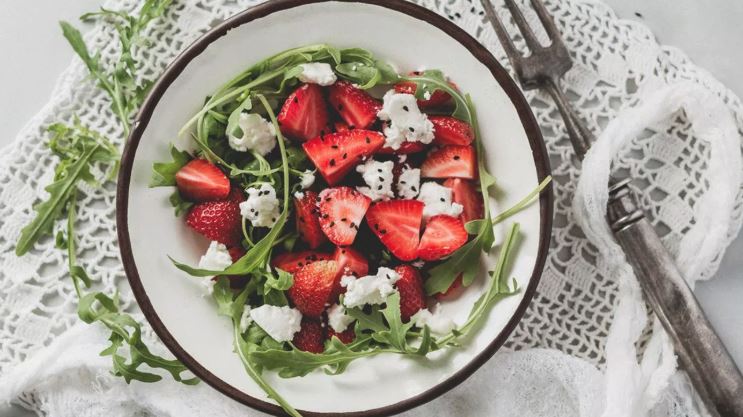 Strawberry Avocado Salad
Strawberries are anti-inflammatory and high in vitamin C. Create a beautiful, and tasty, salad by combining a fusion of fresh strawberries, sliced avocado atop a bed of baby spinach. Crumbled feta cheese, pecans, and a homemade balsamic vinaigrette bring extra flavor. 
February 2019
Paleo Breakfast Burrito

Servings: 4
Cook Time: 25 minutes
Ingredients:
3 Eggs

1 Avocado (diced)

1 Tomato Medium-sized (diced)

1 Onion Small (diced)

1 Garlic Clove (minced)

1/2 Onion (minced)

1/2 lb Ground Beef

1 tsp Cumin

1/8 – 1/4 tsp Cayenne Pepper

Sea Salt (to taste)

Coconut Oil
Instructions:
Melt the coconut oil in a skillet over medium heat and sauté the onion until translucent, about 5 minutes, then add the garlic.

Add the ground beef. Stir occasionally to crumble and cook until browned.




Set the beef aside.

Whisk the eggs in a medium bowl until well combined and beginning to froth.

In a small to medium nonstick skillet, melt coconut oil. Spread the oil around to coat the bottom of the skillet then pour enough egg into the skillet to coat the bottom in a thin layer.

Cook on medium low to low heat until the egg is cooked through. You shouldn't need to flip it then carefully lift the edges, then slide it onto plate.

Repeat steps 8-10 to create 3 more egg "tortillas."

Divide the meat mixture evenly among the 4 tortillas, top with diced tomato, avocado and onion. Serve hot.



February, 2019
Heart Healthy Chocolate Mousse
Servings: 4
Ingredients:
1 large avocado — pitted and ski

n removed

2 ounces semi-sweet baking chocolate — melted and cooled slightly

2 tablespoons unsweetened cocoa powder

3 tablespoons unsweetened coconut milk — or almond milk or nonfat milk

1 teaspoon vanilla extract

1/4 cup nonfat vanilla or plain Greek yogurt — regular yogurt is fine too

2  tablespoons honey
Instructions:
Place all ingredients except honey in a food processor. Pulse until smooth, wiping down the sides and stirring as needed. Add honey a tablespoon at a time, tasting in between. You may need more or less depending on how sweet you want your mousse.

Place in a bowl and chill until ready to use. Serves 1 large portion or 2 small, however, this is really rich and filling. I suggest 4 mini servings!
April, 2018
Paleo Beef with Broccoli
(Author: ChihYu – IHeartUnami.com)
Total Time: 25 mins
Servings: 4 people
Ingredients
1lb beef (sirloin, skirt steak, boneless short ribs…etc.)
1 to 2heads broccoli, break into florets
2cloves garlic, minced
2pieces thin sliced ginger, finely chopped
Ghee or cooking fat of your choice
Beef marinade:
2tbsp coconut aminos
1/2tsp coarse sea salt
1tbsp sesame oil
1/4tsp black pepper
1tsp arrowroot/sweet potato powder
1/4tsp baking soda Baking soda is whole30 friendly. See notes section.
 Sauce combo:
2tbsp coconut aminos
1tbsp red boat fish sauce
2tsp sesame oil
1/4tsp black pepper
Instructions
Slice beef into about ¼ inch thin. Marinate thin sliced beef with ingredients under "beef marinade". Mix well. Place broccoli florets in a microwave safe container. Add 1-2 tbsp water. Loosely covered with a lid or wet paper towel and microwave for 2 mins. Cook until broccoli is tender but still crunchy. Set aside.
Heat a wok over medium heat w/ 1 ½ tbsp ghee. When hot, lower the heat to medium, add garlic and ginger. Season w/ a small pinch of salt & stir-fry until fragrant (about 10 secs).
Turn up the heat to medium-high, add marinated beef. Spread beef evenly over the bottom of the saute pan and cook until the edge of the beef is slightly darkened and crispy. Do the same thing for flip slide – about ¾ way cooked through with slightly charred and crispy surface.
Add "Sauce Combo". Stir-fry about 1 min. Add broccoli. Stir-fry another 30 secs. Toss everything to combine.
March 2018
Instantpot Sesame-Orange Chicken
AUTHOR: Danielle Walker – AgainstAllGrain.com
SERVES: 4
INGREDIENTS:
2 pounds boneless, skinless chicken thighs
1/3 cup coconut aminos
1/3 cup honey
zest of 1 orange
2 tablespoons orange juice
2 tablespoons tomato paste
1 tablespoon toasted sesame oil
2 teaspoons minced garlic
1/2 teaspoon ground ginger
3/4 teaspoon sea salt
1/2 teaspoon red pepper flakes
1/2 teaspoon cracked black pepper
Garnish: sesame seeds and chopped green onions
INSTRUCTIONS:
Trim any visible fat from the chicken, then place it in the bowl of an electric pressure cooker. Place the remaining ingredients, except sesame seeds, and toss to coat the chicken. Secure the lid and turn the valve to sealing. Turn the machine to manual high pressure for 10 minutes.
Meanwhile, whisk together 2 tablespoons of water with 2 teaspoons arrowroot powder. Set aside.
Quick release the pressure from the machine and carefully open the lid. Spoon any fat off the top of the sauce then turn the machine to sauté. Pour in the arrowroot slurry, and simmer for 5 to 10 minutes, until thickened.  Use two forks to roughly shred the chicken in the pot. Serve hot, over cauliflower rice if desired.
Garnish with a sprinkle of sesame seeds and green onions.
_____________________________________________
February 2018
Avocado Tuna Chickpea Salad
(Recipe from CaféDelights.com)
Prep Time: 15 mins
Total Time: 15 mins
Servings: 4 people
Avocado Chickpea Tuna Salad with a lemon dressing is perfect for lunch or dinner! Quick and easy for meal prep! Healthy and filling, this Tuna Salad is not only packed with amazing flavors, it is ALSO a bowl full of protein, fiber and healthy fats!
Ingredients
FOR THE SALAD:
15 ounces (425 grams) Tuna, canned in brine or olive oil
14 ounces (400 grams) can chickpeas, drained
2 large Avocados, peeled and pitted
2 large vine-ripened tomatoes, cut into wedges
1 large cucumber, halved lengthways and sliced
1/2 of a red onion, sliced thinly
FOR THE DRESSING:
1/4 cup olive oil
2 tablespoons freshly squeezed lemon juice
1 tablespoon fresh chopped parsley (plus extra to serve)
1 teaspoon minced garlic (or 1 large garlic cloves, minced)
1/4 teaspoon salt
Instructions
Whisk together dressing ingredients in jug or jar.
Mix together all of the salad ingredients in a large bowl. Toss with dressing. Season with pepper and extra salt if desired.
Recipe Notes
Make-Ahead Tip: Combine all of the ingredients together in a bowl (except the dressing), cover with plastic wrap and refrigerate. When ready to serve, drizzle with dressing.
January 2018
Baked Paleo Pork Chops
With Apples, Onions, & Bacon
(Recipe from: paleo grubs http://paleogrubs.com/)
Prep Time:
10 Min

Cook Time:
40 Min

Total Time:
50 Min
Serves: 4
Ingredients
4 (4-ounce) boneless pork chops

3 tbsp olive oil

½ tsp salt, divided

½ tsp freshly ground black pepper,

1 tablespoon chopped fresh thyme

1 medium onion, peeled and cut into 8 wedges

2 medium apples, peeled, cored and cut into 8 wedges

4 ounces sliced bacon, cut into bite-size pieces
Instructions
1. Preheat oven to 425°.
2. Pound the chops lightly with a meat mallet. Sprinkle the chops with half of salt and half of black pepper.
3. In a large cast iron pan heat 2 tablespoons of olive oil over high heat. Add the pork to pan and cook 3 minutes on each side or until browned. Remove the pan from the heat and remove the pork from the pan.
4. In the pan add the remaining olive oil, apple and onion wedges and bacon. Sprinkle with thyme and remaining salt and black pepper and toss to coat. Put in the oven and bake for 25 minutes then arrange the pork chops over apples and onion and bake for 10 minutes more. Remove from the oven, sprinkle with fresh ground black pepper and serve with your favorite salad.
December 1, 2017
Spicy Maple Nut Mix
(Recipe from Pure Canada Maple) Go nuts – pun intended! – this winter with this recipe for a spicy maple nut mix! This unique blend of spices makes the snack taste sweet, followed by a spicy aftertaste. The nutty flavors of pure maple syrup help bring out the natural flavors from the walnuts, almonds, pecans and pistachios. This snack is super customizable, so throw in your favorite kind of nut into the mix and try many variations to find your favorite combination. This snack tastes best when served warm and fresh out the oven.
Ingredients
1/4 cup butter
1 teaspoon ground cinnamon
1 teaspoon ground nutmeg
1/8 teaspoon ground cayenne pepper
3 tablespoons pure maple syrup
2 cups of mixed nuts (1/2 cup each of walnuts, almonds, pecans and pistachios)
1 teaspoon sea salt
Instructions
Preheat oven to 350˚F. Line large baking sheet with wax paper.
In a skillet over medium heat, melt butter. Remove from heat. Add cinnamon, nutmeg, pepper and pure maple syrup; mix well.  Add nuts; gently stir until well coated in butter mixture. Remove from heat.
Spread nuts on a cookie sheet; bake, leaving oven door partially open, until golden, about 15 minutes. Remove from oven; season with salt. Remove nuts to a bowl; serve warm.
December 1, 2017
Twice-Baked Sweet Potatoes

(Recipe By: Mary-Frances)
Prep 20 minutes
Ready In 2 hour 20 minutes
Ingredients
8 medium sweet potatoes (10-12 ounces each)
1 tablespoon olive oil
½ cup finely grated Parmesan cheese, divided
⅓ cup sour cream or plain Greek yogurt
2 tablespoons pure maple syrup
1 teaspoon salt
½ teaspoon ground pepper
½ teaspoon freshly grated or ground nutmeg
Fried baby kale leaves for garnish (see Tip)
Directions
1. reheat oven to 400°F. Line a large rimmed baking sheet with parchment paper.
2. Prick sweet potatoes in 3 to 4 spots with a fork. Rub with oil and place on the prepared baking sheet. Roast until tender, 45 minutes to 1 hour. Let stand until cool enough to handle.
3. Increase oven temperature to 450 degrees.
4. Slice each sweet potato in half horizontally and scoop the flesh into a large bowl, leaving a generous ¼-inch border in the skins. Place 12 of the prettiest skins back on the baking sheet. (Discard the remaining 4 skins.)
5. Add ¼ cup cheese, sour cream, syrup, salt, pepper and nutmeg to the sweet potato flesh and mash with a potato masher until smooth. Divide the filling among the skins. Top each with a little of the remaining cheese.
6. Bake until the filling is bubbling, 20 to 25 minutes. Garnish with fried baby kale leaves, if desired.
To make ahead: Prepare through Step 5 and refrigerate for up to 4 hours; let stand at room temperature while the oven preheats.
Equipment: Parchment paper
Tip: To turn baby kale into a cool garnish, make sure the leaves are dry, then fry them in hot oil until crisp, about 30 seconds. Drain on paper towels. This also works for herbs like sage or other soft greens like carrot tops.
November 8, 2017
Favorite Pumpkin Granola
author: Lindsay – Pinch of Yum.com
prep time: 10 mins
cook time: 30 mins
total time: 40 minutes
yield: 9 cups (about 18 half-cup servings)
DESCRIPTION
Pumpkin Granola that is both salty and sweet! Made with REAL PUMPKIN along with oats, coconut, almonds, pistachios, maple syrup, cinnamon, and olive oil. My favorite fall granola!
INGREDIENTS
6 cups rolled oats
1 heaping cup sliced almonds
1 heaping cup pistachios (or other nuts)
1 heaping cup unsweetened flaked coconut
1 cup pumpkin puree
1 cup olive oil
1 cup maple syrup
2-3 teaspoons salt (see notes)
1-2 teaspoons cinnamon
INSTRUCTIONS
Prep the Pumpkin Granola: Preheat the oven to 350 degrees. Mix the dry ingredients together (oats, almonds, pistachios, coconut). Whisk the wet ingredients and spices together (pumpkin, olive oil, maple syrup, salt, cinnamon). Pour wet ingredients over the dry ingredients and stir to combine.
Bake the Pumpkin Granola: Spread the granola into a large nonstick jelly roll pan or cake pan – I do this on two separate pans or in two batches. Bake for 15 minutes; stir; bake for another 15 minutes. Remove from oven and let rest – it should start to crisp up.
Eat and love: Store in a plastic zip-top bag for a week or so. Serve with yogurt, fruit, or just with good ol' milk.
NOTES
Salt: Yup. 2-3 teaspoons salt is not a typo. This recipe, as written, is meant to be salty! I love it that way. I make mine with 2 1/2 or 3 teaspoons salt, and it gives it an awesome salty-sweet bite, but if you're not into the salty-sweet thing, you can definitely reduce that amount. Either way, be aware that the unbaked granola "batter" will taste very salty, and fear not – that saltiness mellows out beautifully after you bake it.
Bake times: There is a fine line between perfectly toasted/caramelized and straight up burned pumpkin granola. I found that the 30 to 40-minute mark was my cut-off in our smaller studio oven, whereas in my larger oven at home I got away with about 45 minutes. I had several batches that I popped back in the oven for an extra five minutes and they went from brown to burned really quickly, so beware. That being said, even if you get a little extra browning (not burning, just browning) around the edges, I think that actually tastes really nice once mixed with the rest of the granola.
Pro Tip: Sprinkling raw or brown sugar and a tiny bit of extra salt over the top of the granola as it cools is never a bad idea.
Other add-ins that work well: pecans, walnuts, chia seeds. But be advised that the pecans and walnuts both burn pretty easily so I would suggest adding them towards the end of the baking time. The pistachios seem to be able to handle the heat a bit more, so I found that it worked just fine to add them to all the other ingredients.
September 21, 2017
Tip of the day
A quick cycle in your dishwasher with vinegar is a great way to deodorize it. Just fill a dishwasher-safe cup with white vinegar and put it on the top rack. Don't put anything else in your dishwasher. Just run it through a cycle on the hottest setting. Say goodbye to musty odors and to grease and grime! You can also sprinkle baking soda on the bottom and then run another hot cycle. This will kill even more foul odors and get rid of stains.
Veggie Kabobs
TOTAL TIME: 0:30   PREP: 0:20
LEVEL: Easy             YIELD: 10 servings
Ingredients
1 tsp. ground cumin
1/2 tsp. ground coriander
1/2 tsp. smoked paprika
4 tbsp. extra-virgin olive oil
2 lb. small green and yellow summer squash, cut into 1″ chunks
1 pt. grape tomatoes
12 oz. small broccoli florets
8 oz. cremini or button mushrooms, halved if large
1 lime
Directions
Heat grill to medium. In a small bowl, combine cumin, coriander, paprika, and 1 teaspoon salt; set aside.
In a large bowl, toss squash and tomatoes with 2 tablespoons oil. In another bowl, toss broccoli and mushrooms with 2 tablespoons oil. Thread vegetables in bowl one onto skewers and then thread the vegetables in bowl two onto skewers. The two sets of vegetables will cook different lengths of time. (If using bamboo skewers, soak them 30 minutes first.)
Grill broccoli and mushrooms 6 to 10 minutes, turning over once. Grill squash and tomatoes 6 to 8 minutes, turning over once. Sprinkle with half of spice mixture.
Transfer skewers to a large platter or cutting board and squeeze lime juice all over vegetables then sprinkle with remaining half of spice mixture if desired. Cover platter tightly with foil; let stand, covered, at least 5 minutes before serving.
Nutritional Information (per serving): Calories 110; Protein 3g; Carbohydrate 8g; Total Fat 9g; Saturated Fat 1g; Dietary Fiber 3g; Sodium 210mg.
September 1, 2017
Tip for the Day
Keep a bag handy inside your vehicle. That way you can stash items in it that need to be brought into the house.
Have scratches on glass surfaces? Try rubbing some toothpaste over the surface, and then polish with a microfiber cloth. This can really improve the appearance of the glass.
No-Bake Chia Almond Nuggets
(Great after-school snack!)
Makes 14-16 Nuggets
Ingredients
1 cup of dried apricots
1/2 cup of whole, raw almonds
2 tablespoons of chia seeds
2 tablespoons of sesame seeds
1/4 cup of honey
Directions
Place apricots, almonds, chia seeds and sesame seeds in food processor. Process until ingredients are evenly ground. Remove feeder tube cover; slowly add honey.
Roll mixture into 1-inch round balls using a rounded tablespoon. Store in airtight container.
Cook's Tip: Heat honey container with lid open in microwave for a few seconds to warm and make easier to pour.
August 2017
Tip of The Day!
Static electricity on your TV screen? Grab a dryer sheet and run it across your screen to get rid of it.
~
Want to shine up your wood with a quick and easy home mixture? Never mind furniture polish. Just grab some olive oil and lemon juice and mix them in a 2:1 ratio. Go over your wood surfaces with it and your furniture will shine.
Minty Watermelon-Cucumber Salad Recipe
TOTAL TIME: Prep/Total Time: 20 min.YIELD:16 servings
Ingredients
8 cups cubed seedless watermelon
2 English cucumbers, halved lengthwise and sliced
6 green onions, chopped
1/4 cup minced fresh mint
1/4 cup balsamic vinegar
1/4 cup olive oil
1/2 teaspoon salt
1/2 teaspoon pepper
Directions
In a large bowl, combine watermelon, cucumbers, green onions and mint. In a small bowl, whisk remaining ingredients. Pour over salad and toss to coat. Serve immediately or refrigerate, covered, up to 2 hours before serving. Yield: 16 servings (3/4 cup each).
Nutritional Facts
3/4 cup: 60 calories, 3g fat (0 saturated fat), 0 cholesterol, 78mg sodium, 9g carbohydrate (8g sugars, 1g fiber), 1g protein. Diabetic Exchanges: 1/2 fruit, 1/2 fat.
July 2017
Tip of The Day!
Every time before you leave for the grocery store, do a quick fridge and
freezer check to see if you have any old items you should throw away and replace.
~
Lemon and vinegar are perfect for cleaning the garbage disposal.
This will not only get the gunk out, but it will also help to freshen the smell in your kitchen.
Slow-Cooker Hawaiian Pork Tacos
Slow-cooker recipes like these spicy-sweet tacos are great time-savers for weeknight meals.
If you don't use all of the pork at once, freeze some for another quick dinner!
Prep Time: 10 minutes Cook Time: 8 hours
Serving Size: 1 taco or lettuce wrap. This Recipe Serves 11
Ingredients
3 3/4 lb lean boneless pork shoulder/Boston butt roast
1/2 tsp ground black pepper
1/4 tsp ground ginger
1 tsp cumin
1 medium onion, sliced
2 cloves garlic, minced
8 oz pineapple juice
1 cup white wine
11 corn tortillas, warmed or romaine lettuce leaves to make a wrap!
1 cup shredded lettuce
Instructions
Place 3.75 lb lean boneless pork shoulder/Boston butt roast in a slow-cooker. Sprinkle meat with pepper, ginger and cumin. Add onion and garlic on top of roast. Pour pineapple juice and wine over roast.
Cover and cook on high for 7-8 hours. Drain liquid and shred pork with a fork.
Scoop about 1/2 cup pork into each tortilla or lettuce leaf. Top each taco with shredded lettuce and any additional toppings of your choice.
Toppings to try!
Mango Salsa
Lime Juice
Pico de Gallo
Serving Size: 1 taco or wrap
Calories270, Carbohydrate17 g, Protein37 g, Fat6 g, Saturated Fat1.8 g, Sugars3 g, Dietary Fiber2 g, Cholesterol95 mg, Sodium90 mg, Potassium690 mg.
June 29, 2017
Tip of The Day!
Tired of your salt lumping together and getting hard inside the salt shaker? Here's a trick you may recognize from restaurants you have been to. Just add a few grains of rice. Rice is amazing at absorbing moisture, and will keep the salt dry. This keeps it from clumping.
Crock Pot Honey Garlic Chicken
Serves: Serves 4 to 6
Prep time:  5 mins
Cook time:  5 hours
Total time:  5 hours 5 mins
6 boneless, skinless chicken thighs*
4 garlic cloves, minced
⅓ cup honey
½ cup low sodium ketchup
½ cup tamari, coconut aminos or soy sauce
½ teaspoon dried oregano
2 tablespoons fresh parsley
½ tablespoon toasted sesame seeds
Arrange chicken thighs on the bottom of your slow cooker; set aside. (please look at the notes section)
In a mixing bowl, combine garlic, honey, ketchup, (tamari, coconut aminos or soy sauce), oregano and parsley; whisk until thoroughly combined.
Pour the sauce over the chicken thighs.
Close with a lid and cook for 4 to 5 hours on LOW, or 3 to 4 hours on HIGH.** (please look at the notes section)
Remove lid and transfer chicken to a serving plate.
Spoon the sauce over the chicken and sprinkle with toasted sesame seeds.
Notes
*Use enough chicken thighs (bone-in or boneless, skin-on or without) to cover the bottom of your slow cooker. You can also use chicken breasts.
**All crock pots cook at different times and temperatures. Some readers suggest to only cook the chicken for 3 hours, while others said it took 4 hours in their crock pot. More importantly, 165 degrees Fahrenheit is the safe internal temperature for both the white meat of the chicken and dark meat.
June 14, 2017
 Tip for The Day!
Condition your chopping board so that the wood will last longer. How?
As it turns out, a quick wipe-down with food-grade mineral oil is really all you need.
Slow Cooker Thai Chicken & Wild Rice Soup
Prep Time: 15 Mins
Cook Time: 4 Hours
Total Time: 4 Hours 15 Mins
Serves: 8-10
Ingredients
6 boneless skinless chicken thighs
4 carrots, chopped
4 cups squash, cubed (acorn & butternut were both great)
2 onions, diced
2 tablespoons fresh ginger, minced
⅔ cup wild rice blend (I used a brown rice & wild rice blend)
6 cups chicken stock
2 tablespoons Thai red curry paste
2 tablespoons brown sugar
2 tablespoons fish sauce
(After cooking) 1 400 ml. can of coconut milk (I recommend using full fat, not light coconut milk)
Instructions
Combine all ingredients except the coconut milk in a 6-quart slow cooker (* see note).
Cook on low for 6 hours or high for 4 hours.
Stir in the coconut milk and cook for 10 or so minutes until completely combined.
Shred chicken with two forks.
Serve with lime wedges and cilantro (if desired).
FOR EXTRA CREAMY SOUP leave out 2 cups of chicken stock and add an extra can of coconut milk at the end.
Notes
* I prepared this in my 5-quart slow cooker but it was very full. I recommend using a 6 quart or larger.
* Due to the Thai curry paste, this soup is moderately spicy.
* This recipe has also been tested with bone in chicken breast and worked great cooked on high for 4 hours.
Nutrition Information: Serving size: ⅛ batch Calories: 288 Fat: 12 g Saturated fat: 9 g Carbohydrates: 26 g Sugar: 8 g Sodium: 815 mg Fiber: 3 g Protein: 18 g Cholesterol: 54 mg
May 16, 2017
 Tip for The Day!
 Did you know you can remove marks on wood furniture using a walnut? Cut it in half and rub it into the scratch. Don't have a walnut? Pecans, Brazil nuts, and almonds all work fine. After you rub the nut across the furniture, rub the area with your fingers. This will help the oils from the nut soak into the surface of the wood. Buff it up with a cloth, and you're set.
Mediterranean Salmon Sheet Pan Dinner
Cook Time: 30 Mins
Total Time: 30 Mins
Serves: 4
Ingredients
¼ cup balsamic vinegar
¼ cup olive oil
6 cloves garlic, minced
½ teaspoon salt
1 lb baby potatoes, cut into quarters (cut the larger ones into 6)
Four 4 oz salmon fillets
5 cups of fennel, thinly sliced
5 cups Brussels sprouts, halved
1 small red onion, cut into wedges
To Serve:
½ cup feta cheese, crumbled (Leave out to make the recipe dairy-free)
2 tablespoons parsley
Instructions
Heat oven to 425°F. Line two baking sheets with parchment paper and set aside.
Shake together the balsamic vinegar, olive oil, garlic, and salt.
Toss the potatoes in ⅓ of the mixture and arrange on one of the baking sheets.
Bake for 15 minutes, then stir them up and return to the oven.
Arrange the salmon on the second baking sheet, drizzle with ⅓ of the balsamic vinegar mixture.
Toss the veggies in the remaining balsamic mixture and arrange around the salmon. Bake for 12-15 minutes, until everything is cooked through.
Sprinkle with feta cheese and parsley and serve.
Notes:
To prevent overcrowding the pan I recommend using two sheet pans.
Nutrition Information
Serving size: ¼ batch Calories: 454 Fat: 23 g Saturated fat: 7 g Carbohydrates: 34 g Sugar: 8 g Sodium: 741 mg Fiber: 6 g Protein: 30 g Cholesterol: 72 mg
_______________________________________________
May 2, 2017
 Tip for The Day!
To make an easy brass polish straight from your pantry, mix flour
with vinegar and salt and apply with a rag.
Bean and Corn Salsa
Ingredients
3 cups chopped seeded tomato (about 3 medium)
3/4 cup chopped Vidalia or other sweet onion
1/2 cup chopped tomatillos (about 2 medium)
1/4 cup canned black beans, rinsed and drained
1/4 cup fresh corn kernels
2 tablespoons finely chopped fresh parsley
2 tablespoons fresh lime juice
1/2 teaspoon salt
1/2 teaspoon freshly ground black pepper
1/2 teaspoon hot sauce
Preparation
Combine all ingredients in a large bowl; cover and chill at least 2 hours.
Nutritional Information
Calories per serving: 15
Calories from fat per serving: 12%
Fat per serving:  0.2g
Saturated fat per serving: 0.0g
Monounsaturated fat per serving: 0.0g
Polyunsaturated fat per serving: 0.1g
Protein per serving: 0.6g
Carbohydrate per serving: 3.3g
Fiber per serving: 0.8g
Cholesterol per serving: 0.0mg
Iron per serving: 0.2mg
Sodium per serving: 83mg
Calcium per serving: 7mg
April 2017
Tip to Clean Your Oven
To get rid of small spills on the bottom of your oven, sprinkle salt on the spill while the oven is still warm. (If the oven has already cooled, wet the spill before sprinkling with salt.) When the oven is cool enough to touch, scrape away the spill and wash the oven clean.
Easy (Baked) Parmesan Sweet Potato Zucchini Tots
Ingredients
1 medium – sweet potato
1 medium – zucchini
1/4cup – Parmesan cheese
1/2teaspoon – sea salt
1/4teaspoon – paprika
1/8teaspoon – garlic powder
1 tablespoon – flour, coconut
Directions
Preheat oven to 375 degrees.
Peel sweet potato and microwave on high for 3.5 – 4 minutes. (alternatively, you can boil a peeled sweet potato for 15 – 20 minutes instead). Let sweet potato cool for a few minutes so that you can safely handle it.
Using a medium to the large grater, grate the sweet potato… adding it to a medium mixing bowl.
Then peel and grate the zucchini either over a thick paper towel or a tea towel. Once grated, squeeze out the excess "juice"/water from the zucchini.
Then add the remaining ingredients into the mixing bowl with the sweet potato: grated zucchini, parmesan cheese, sea salt, paprika, garlic powder, and flour. Mix well, even using your hands to press and squeeze and make sure everything is thoroughly combined.
Form the mixture into small cylinders with your fingers, making them about an inch and a half long. Set them on a lined baking sheet in rows so that they are not touching each other.
Bake for 20 minutes. Then, flip them over. Then bake for another 15 – 20 minutes, until lightly browned.
Serve tots hot with your choice of low sugar sauce.
April 2017
Cheesy Spinach Quinoa Cups
PREP TIME: 20 mins     COOK TIME: 15 mins
TOTAL TIME: 35 mins            SERVES: 24-28
Ingredients
1 cup uncooked quinoa (2.5 cups cooked)
1½ cups shredded cheese
300g/11oz frozen spinach, thawed, drained, excess moisture pressed out
½ teaspoon salt
¼ teaspoon onion powder
¼ teaspoon garlic powder
2 eggs
Instructions
Cook quinoa according to package directions. Allow quinoa to cool.
Heat oven to 350°F.
Stir together quinoa with all remaining ingredients.
Spoon into a well-greased mini muffin tray (I use spray oil + paper towel).
Bake for 15-18 minutes.
Allow quinoa cups to cool completely before working a knife around them and popping them out of the pan.
To store in the fridge:
Cool completely and store in a reusable container in the fridge for up to 1 week.
To freeze:
Cool completely, then portion out into small plastic bags. Try to remove as much air as possible (you can suck it out using a straw).
Freeze for up to 1 month.
Nutritional Information: (per quinoa cup)
Calories 59 // Fat 3 g // Saturated Fat 2 g // Cholesterol 20 mg // Sodium 92 mg // Carbohydrate 4 g // Fiber 1 g // Sugars 0 g // Protein 3 g
March 2, 2017
Healthy Foods To Help You Detox
In addition to our Body Detox product, there are more delicious ways to help your body get rid of toxins! Here is a list of fun foods that you may already be eating that also help your body detox. In order to get the benefits of these foods you do not need to eat every single one on this list, you can simply pick a favorite or two and enjoy.
1. Apples. Because apples are high in pectin, a type of fiber that binds to cholesterol and heavy metals in the body, they help eliminate toxic build up and to cleanse the intestines.
2. Avocados. We rarely think of avocados as a cleansing food but these nutritional powerhouses lower cholesterol and dilate blood vessels while blocking artery-destroying toxicity. Avocados contain a nutrient called glutathione, which blocks at least thirty different carcinogens while helping the liver detoxify synthetic chemicals.
3. Beets. Time to whip up some delicious borscht soup since its main ingredient, beets, contain a unique mixture of natural plant compounds that make them superb blood purifiers and liver cleansers.
4. Blueberries. Truly one of the most powerful healing foods, blueberries contain natural aspirin that helps lessen the tissue-damaging effects of chronic inflammation, while lessening pain. Blueberries also act as antibiotics by blocking bacteria in the urinary tract, thereby helping to prevent infections. They also have antiviral properties and help to block toxins from crossing the blood-brain barrier to gain access to the delicate brain.
5. Cabbage. Cabbage contains numerous anticancer and antioxidant compounds and helps the liver break down excess hormones. Cabbage also cleanses the digestive tract and neutralizes some of the damaging compounds found in cigarette smoke (and second-hand smoke). It also strengthens the liver's ability to detoxify.
6. Celery and Celery Seeds. Celery and celery seeds are excellent blood cleansers and contain many different anti-cancer compounds that help detoxify cancer cells from the body. Celery seeds contain over twenty anti-inflammatory substances. It is particularly good for detoxifying substances found in cigarette smoke.
7. Cranberries. Cleanse your body from harmful bacteria and viruses that may be lingering in your urinary tract with cranberries since they contain antibiotic and antiviral substances.
8. Flaxseeds and Flaxseed Oil. Loaded with essential fatty acids, particularly the Omega-3s, flaxseeds and flaxseed oil are essential for many cleansing functions throughout the body.
9. Garlic. Eat garlic to cleanse harmful bacteria, intestinal parasites and viruses from your body, especially from the blood and intestines. It also helps cleanse build-up from the arteries and has anti-cancer and antioxidant properties that help detoxify the body of harmful substances. Additionally, garlic assists with cleansing the respiratory tract by expelling mucous build-up in the lungs and sinuses. For the health benefits, choose only fresh garlic, not garlic powder, which has virtually none of the above properties.
10. Grapefruit. Add a ruby red grapefruit to your breakfast to benefit from pectin fiber that binds to cholesterol, thereby cleansing the blood. Pectin also binds to heavy metals and helps escort them out of the body. It also has antiviral compounds that cleanse harmful viruses out of the body. Grapefruit is an excellent intestinal and liver detoxifier.
11. Kale. Steam some kale to benefit from its powerful anti-cancer and antioxidant compounds that help cleanse the body of harmful substances. It is also high in fiber, which helps cleanse the intestinal tract. Like cabbage, kale helps neutralize compounds found in cigarette smoke and strengthens liver cleansing.
12. Legumes. Add a handful of cooked beans to your next meal since they loaded with fiber that helps lower cholesterol, cleanses the intestines and regulates blood sugar levels. Legumes also help protect the body against cancer.
13. Lemons. Excellent liver detoxifiers, lemons contain high amounts of vitamin C, a vitamin needed by the body to make an important substance called glutathione. Glutathione helps the liver detoxify harmful chemicals. Add a squeeze of fresh lemon juice (not the bottled variety) to pure water to support your cleansing efforts on a daily basis.
14. Seaweed. Seaweed could be the most underrated vegetable in the western world. Studies at McGill University in Montreal showed that seaweeds bind to radioactive waste in the body. Seaweed also binds to heavy metals to help eliminate them from the body. In addition, they are powerhouses of minerals and trace minerals.
15. Watercress. If you haven't tried watercress add this delicious green to your next sandwich since it increases detoxification enzymes and acts on cancer cells in the body. In a study at the Norwich Food Research Center in the UK, smokers who were given 170 grams of watercress per day eliminated higher than average amounts of carcinogens in their urine, thereby eliminating them from their body.
Eating a variety of fresh fruits and vegetables assists with detoxifying harmful substances from your body. Who knew cleansing could taste so good?
February 14, 2017
Apple Cinnamon Muffins

(Recipe from Paleo Plan)
Number of servings: about 12
Approximate preparation time:25 minutes       Bake time: 15-18 minutes
Ingredients
2 small apple(s), cored and diced
1 tablespoon(s) lemon juice
5 large egg(s)
1/2 cup(s) coconut flour
2 tablespoon(s) cinnamon
1/8 teaspoon(s) nutmeg, ground
1 teaspoon(s) baking soda
4 tablespoon(s) coconut oil, melted
¼ teaspoon(s) sea salt
1 package(s) paper muffin liners
Instructions
Preheat oven to 400 degrees F. Spray a muffin tin with cooking spray or line with paper liners.
Put the apples in a saucepan with the lemon juice and cover. Add enough water to cover half. Bring to a boil, reduce heat and simmer for 10 minutes, until apples are broken down. Transfer to a blender and puree until smooth. Leave in the blender and let cool for 5 minutes.
When the apples are warm, add the remaining ingredients to the blender and puree on low until you have a thick batter.
Pour the batter into your prepared muffin tin, filling each tin about 3/4 full. Bake for 15­-18 minutes, until muffins are well browned and tops are firm. Let cool before removing from pan.
For an extra treat, try serving with butter and maple syrup!
February 14, 2017
Foods That Help Lower Cholesterol

(Excerpts from Alot Health Team)
If you are trying to lower your LDL (or "bad") cholesterol, knowing which foods are proven to help lower LDL cholesterol can help you find the best options to incorporate into your diet.
Oats: A breakfast that contains at least two servings of oats can potentially lower your LDL cholesterol by more than 5% in only six weeks. This is because oats contain beta-glucan, which absorbs LDL.
Red wine: Recent studies have shown that the high-fiber grapes that are used to make red wine can have a significant effect on cholesterol levels. Depending on how high your cholesterol is beforehand, you could see between a 9% to 12% drop in LDL cholesterol when regularly consuming wine that contains this type of red grape.
Salmon: Omega-3 fatty acids have been shown to reduce your risk for heart disease, dementia, and several other conditions. Additionally, omega-3, which is found in high doses in fish like salmon, sardines, and herring, is now proven to raise HDL (or "good") cholesterol levels by up to 4%.
Nuts: Recent studies have shown that just 1.5 ounces of nuts eaten six days a week can lower your LDL cholesterol by almost 10% in just one month. Some specific varieties that are good for this purpose include walnuts, almonds, and cashews. However, despite the health benefits of nuts, they are still very high in calories, so try to keep them limited to about a handful per day.
Green tea: Green tea is a great alternative to sodas and other sugary beverages. This is because it contains cancer-fighting antioxidants as well as compounds that can help lower LDL cholesterol levels.
Beans: Beans are very fiber-rich, making them an excellent addition to your diet, especially black beans, kidney beans, and pinto beans. Beans are good for your heart because they slow the rate of and amount of absorption of cholesterol in certain foods.
Chocolate: In small doses, dark chocolate (at least 70% and with a small amount of sugar) can serve as a powerful antioxidant. Compared to milk chocolate, dark chocolate has three times more antioxidants, which can help keep arteries from clogging, as well as increasing HDL cholesterol levels by up to 24%
Garlic: Eating two to four fresh cloves of garlic a day can have an abundance of health benefits, including lowering cholesterol, preventing blood clots, reducing blood pressure, protecting against infections, and preventing clogging in the arteries.
Olive oil: Instead of canola oil (which is high in saturated fats), olive oil is full of heart-healthy monounsaturated fatty acids, which work to lower LDL cholesterols.
Being creative in the ways you incorporate new foods into your daily eating habits can help you stick to a healthy diet.
Resource:
http://health.alot.com/wellness/10-foods-for-a-diet-to-lower-ldl-cholesterol—8691
February 9, 2017
EASY VANILLA OVERNIGHT OATS WITH FRUIT
Prep Time: 5 minutes / Cook Time: 4 hours to overnight
Yield: 2 servings
INGREDIENTS
1 cup old fashioned oats
1 cup Greek yogurt (I used vanilla)
1 cup milk (any milk works)
2 tablespoons chia seeds
1/2 teaspoon vanilla extract
Toppings:
 Fruit (go CRAZY!): banana, berries, pomegranate, etc. (fresh or frozen)
 Nuts: slivered almonds, cashews, pistachios.
 Seeds: Trader Joe's has an amazing grain and seed blend
 Dried fruit: cranberries, blueberries, raisins
INSTRUCTIONS
In a large mason jar or container with a secure lid, combine the oats, yogurt, milk, chia seeds and vanilla extract. Mix well. Cover with an airtight lid and store in the refrigerator for at least 4 hours to overnight.

When ready to eat, you can dump toppings directly into the jar or divide into bowls and add toppings.
Enjoy!